Archive for Analysis Paralysis
It's good to be back in the writing saddle and staring into my computer screen once more after a week's break. Seriously though, I'm glad to be back talking about analysis paralysis and unconscious golf – two of my favourite golf psychology topics.
Concentrating on how you swing will often prevent you from playing your best and most natural game of golf. You probably recall similar messages from me before and it ties into the concept that there's a place for thinking consciously on the golf course, about where you want the ball to go and how you want it to get there, and a place for trusting your unconscious to put your best swing on the ball without any interference from the conscious mind.
I've heard over the years and read in some of the older golf books in my library about Ralph Guldahl a really great golfer from the 1930s. After a relatively slow start as a professional golfer he ended up winning 16 PGA Tour events in a nine-year period. He peaked with three Major wins towards the end of this period, but never won again after 1940 …
Click here to read the full post »

I wrote back in March about how analysis paralysis can result from thinking too much consciously about your swing, as you are actually hitting the ball. Now if you regularly read my blog, you'll know that I actively promote the idea using golf hypnosis build trust in your unconscious golf mind when actually hitting the ball.
So you can imagine my amusement when I came across this short video on YouTube with JC Anderson demonstrating just what I was talking about.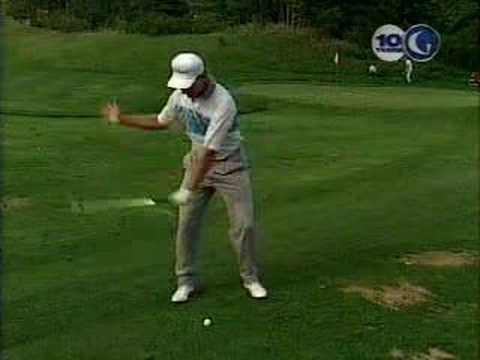 You do not improve your swing and achieve golf success through analysis paralysis. People who teach complex swing thoughts just clutter the conscious mind and block out the unconscious mental processes that just know how to swing the club to the best of a player's ability.
Now don't get me wrong about the general standard of teaching from PGA golf professionals, it's truly magnificent and in nearly always cases their swing coaching advice is well thought out, simple, elegant and tailored to the golfer in front of them.
So what am I griping about, you may ask? …
Click here to read the full post »